As low as
$32,4952
(after potential federal tax credit)
Estimated Lease Payment
$379/month for 36 month lease. $3,579 due at signing.3
Excludes tax, title, license, options and dealer fees. No security deposit required. For highly qualified customers through Volkswagen Credit.
Manufacturer Estimated Range for ID.4 Pro S and 1st edition
260 miles4
Estimated Charging Time (at a public DC fast charger)
60
miles in about
10
minutes
5
Sunnyvale Volkswagen is your EV and ID.4 Source 
San Jose Drivers Can Reseve the 2021 Volkswagen ID.4 at Sunnyvale Volkswagen in Sunnyvale, CA
If you want to or already have committed to buying all-electric vehicles and are in the market for an SUV, explore the 2021 Volkswagen ID.4. This incredible all-electric SUV will get you around the Palo Alto streets with modern stylings and upgrades. Drivers interested can reserve their VW ID.4 online or in person at Sunnyvale Volkswagen. You can also schedule a test drive to see how you fit in the VW ID.4. Get to know the 2021 VW ID.4 and see why going electric is just as thrilling as any other powertrain out there.

Reserve
When you reserve your 2021 Volkswagen ID.4 online, you get to pick the exact specifications of your vehicle. Choose the color you wish that matches your personality. Upgrade to the all-wheel drive and take your electric crossover to the mountains. Choose the best trim level to match your lifestyle and daily needs.

From Factory to you
Once your VW ID.4 is reserved, the request is submitted to Sunnyvale Volkswagen, and we connect with you to solidify the order for send-off to Volkswagen. You will be able to track your car's build and get an estimated arrival date as soon as Volkswagen accepts the order. Track your order easily through MyVW or by email, whichever you prefer.

Finance and pickup
Once your ID.4 is available to be picked up you'll be invited to complete your financing at our dealership.

My ID.4 Reservation
and beyond
Manage your My ID.4 Reservation through our portal, where you'll find helpful information about the build process, the progress of your own vehicle, and pointers on navigating the EV lifestyle.
Schedule Your ID.4 Test Drive
The ID.4 is unlike anything you've experienced before, to schedule your test drive, complete the form below. One of our salespeople will contact you shortly to confirm the time and date.
Design Electric now looks

as good as it feels.
Styling
Go Bold

Clean lines and aerodynamic elements create a striking silhouette–it's an EV SUV that doesn't make you sacrifice form for function.
And with the optional Gradient package, a black roof, silver roof trim, silver accents and silver roof rails give it a bold look–with 20" wheels to complete the look.
Glass Roof
Get a new view

This expansive panoramic fixed glass roof lets the light in, providing a sweeping view of the sky. It can help keep the light out too, thanks to an electric sunshade that's prompted with the swipe of your finger.
Lighting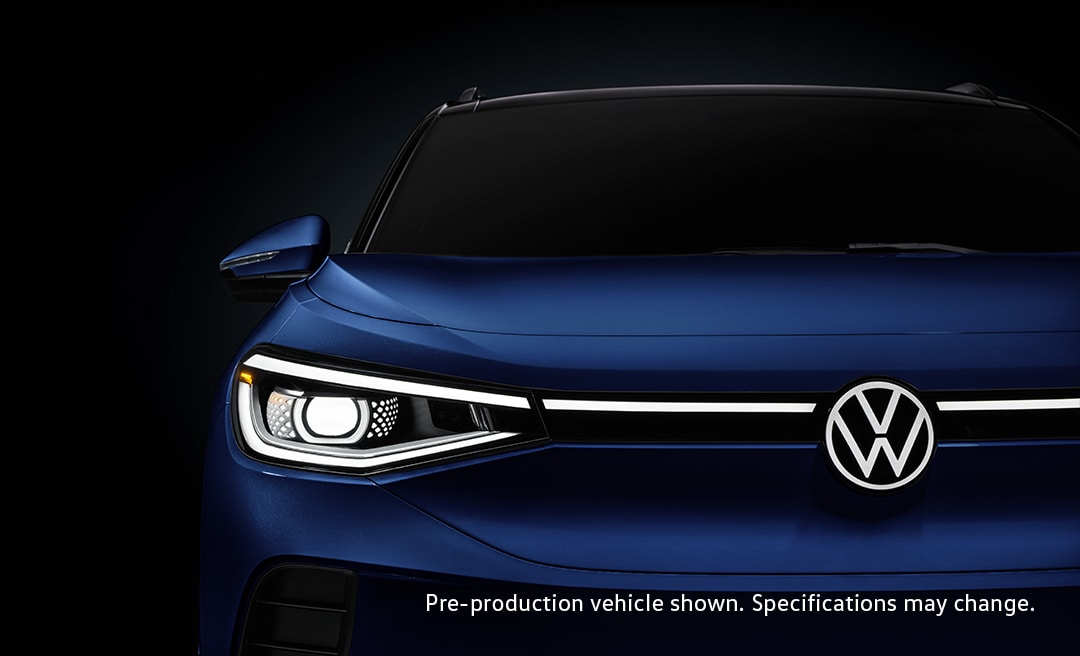 A brighter future

Talk about a glow up–with LED taillights, and illuminated door handles, the ID.4 practically radiates. And with the Pro S, Premium LED projector headlights and a beautifully illuminated front Volkswagen logo and light line in the grille adds a touch of style to its face.
1st Edition Design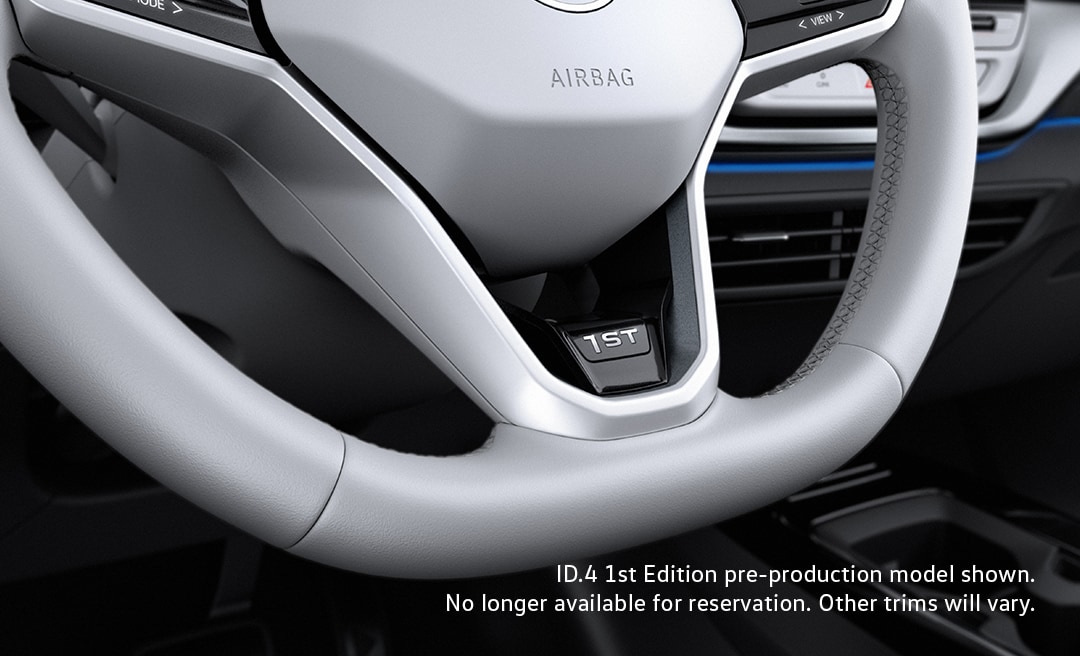 So good it's gone

With exclusive 1st Edition badging, stunning white interior accents, contrasting black mirror caps and play/ pause pedals–it's no wonder the ID.4 1st Edition is sold out.
The heart of an EV.


The function and size of an SUV.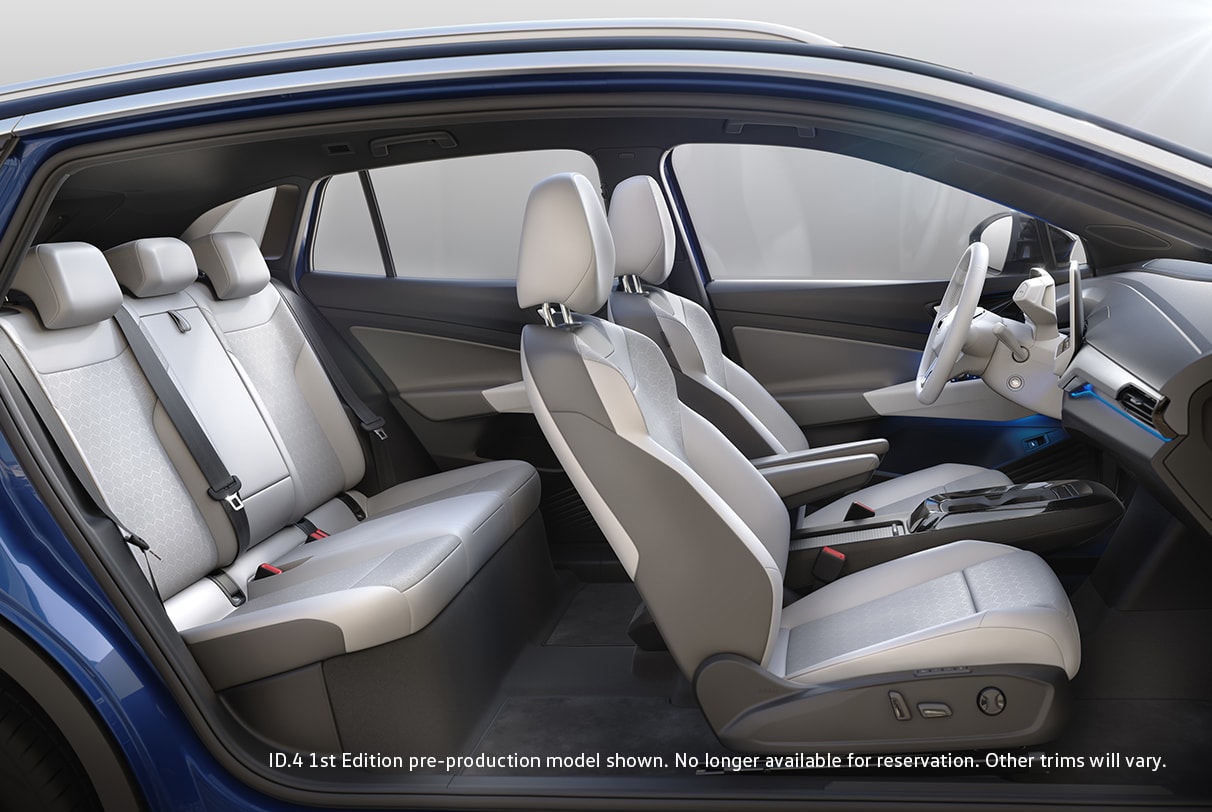 Get to Know the All-Electric 2021 Volkswagen ID.4 near Santa Clara, CA
Exterior & Interior
You can expect big things and small details inside and out of the VW ID.4. The exterior holds a similar silhouette to other VW SUVs; however, in the cadence of keeping it simple, the design is subtle while still making passers-by wonder what VW ID.4 is all about. The VW ID.4 is super unique in that its roof is made of glass, making for a great view of what's above while you can still prompt the electric sunshade with the touch of a button.
With seating for five, the solo Sunnyvale driver or family can fit in nicely. If you need more room for hauling larger items, put down the second row and utilize 64.2 cubic feet of cargo space. The VW ID.4 automatically starts with the intuitive starting feature when you and your key fob are safely in the driver's seat.
Range
While all ranges are dependant on motor performance and driving conditions, you can expect an impressive drive range from the 2021 VW ID.4. Charge your compact crossover at home with an L2 wallbox charger. Depending on certain variables, the EPA estimates you can get, at most, a 260-mile drive range from the VW ID.4. Home charge time with the wallbox charger is EPA estimated to deliver 20-34 miles of charge an hour, depending on trim level. A public DC fast charger can charge the VW ID.4 from 56-62 miles of charge every 10 minutes, very impressive by electric charging standards.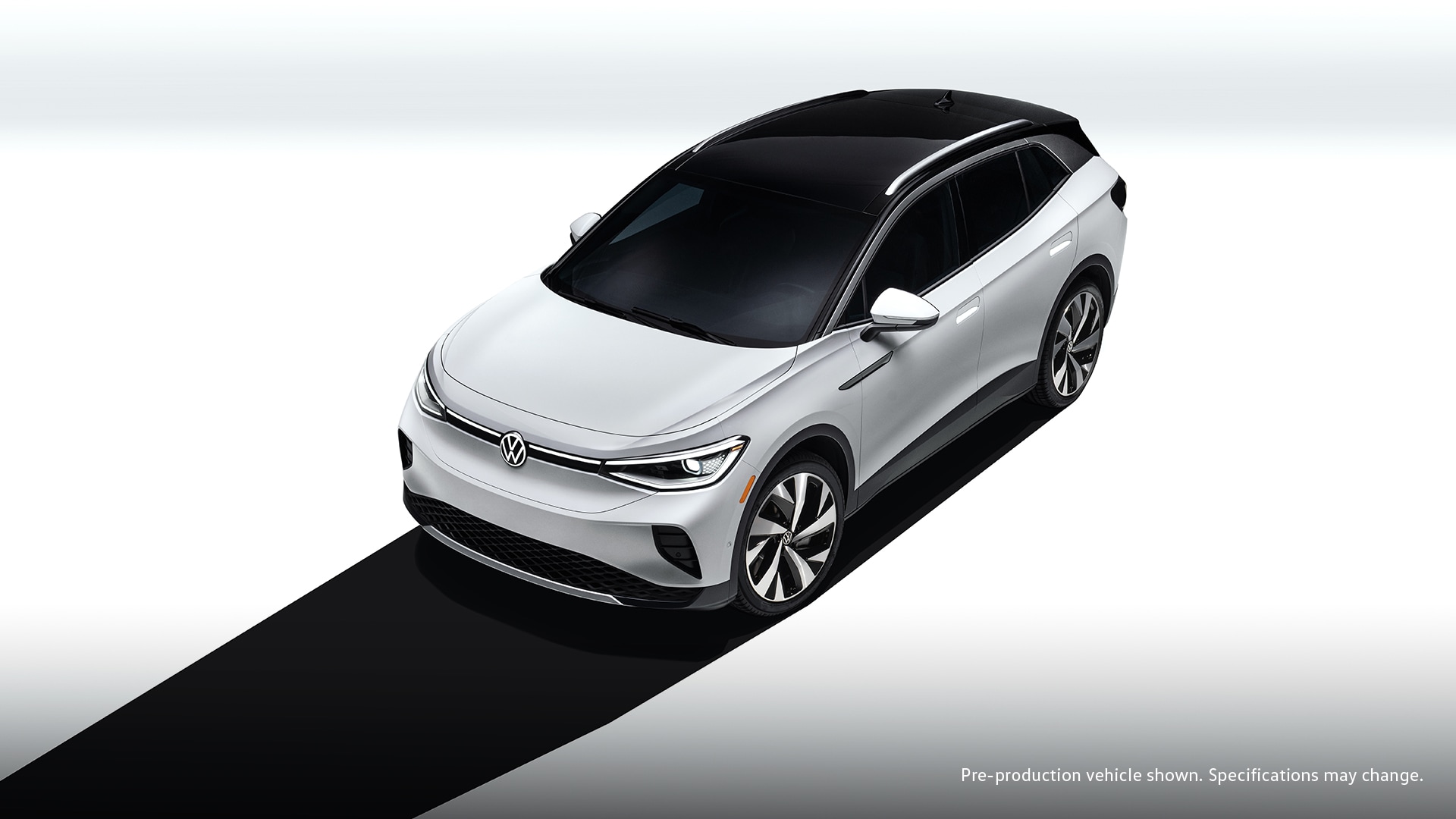 Technology & Safety
A 12-inch touchscreen meets you as soon as you enter the cabin. With navigation, sound, and lighting controls all centered in one space, no more twisting and turning to find different buttons. App-Connect allows you to connect your smartphone and utilize voice commands. The ID.Light feature illuminates across the dashboard, alerting you to safety warnings, incoming calls, and more without being distracting.
IQ.Drive is a host of safety features other drivers will be pining over:
Lane Assist alerts drivers when they seem to be drifting from the center of their lane.
Front Assist includes Forward Collision Warning to help lessen the chance of a front impact.
Adaptive Cruise Control helps maintain preset speeds and aids in keeping a safe distance from the cars in front of you.
Active Side Assist is a blind spot monitoring feature that helps bring more awareness to places you cannot see.
And More!
Range
Where to?

The Volkswagen ID.4 Pro S and 1st Edition electric vehicles can take you where you need to go with a manufacturer estimated 250 miles of range 4. Range for all other versions is not yet available and will vary.
All-Wheel-Drive
Drive confidently

The addition of all-wheel-drive in a typical SUV helps give the driver more traction. But the Volkswagen ID.4 electric vehicle is anything but typical.
Available all-wheel-drive means getting a second electric motor at the front wheels–giving you quicker acceleration and intelligent handling that distributes all that power where it's needed most.
Instant Torque
Electric doesn't have to mean sacrifice.

Not to worry, rev-heads, the ID.4 delivers on exhilaration... and then some. From the moment you hit the pedal, you'll feel the instant torque. And while acceleration is much quieter than a combustion engine, we can't promise you won't break the silence with a few oohs and ahhs. This EV shatters expectations, even when it comes to fun.
Overview
Goodbye gas. Hello range.

Hallelujah! Going EV means never getting gas again. It also means thinking about driving differently. You'll think in range rather than MPG. Instead of filling your tank, you'll charge your battery. And there are so many different ways to charge your Volkswagen ID.4 electric vehicle.
At-Home Charging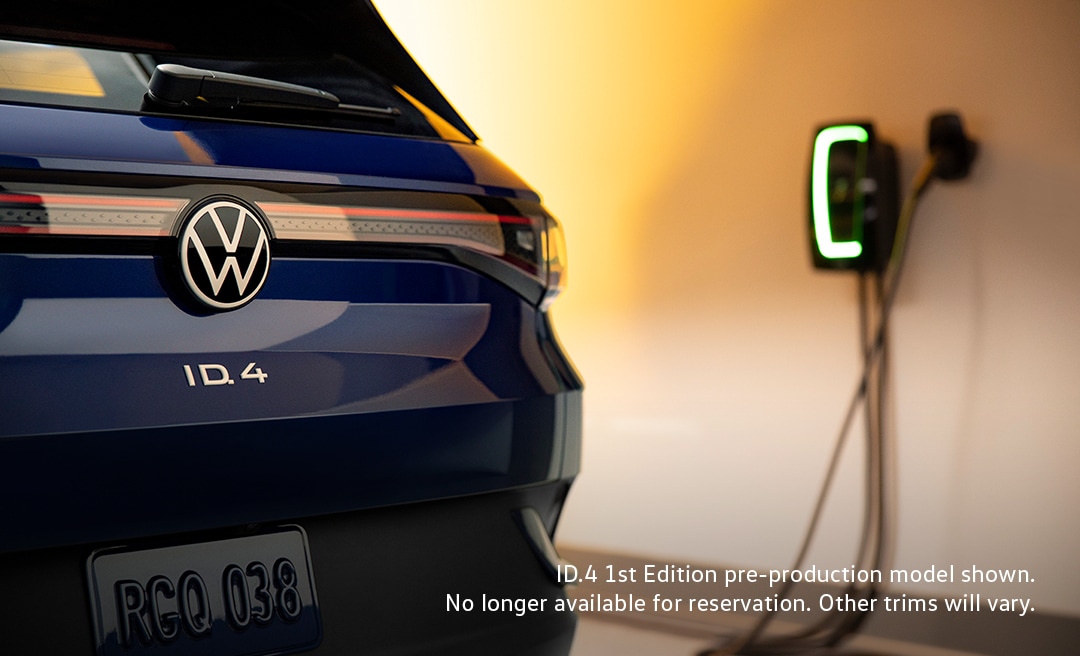 Your charging home base

The most practical way to charge your Volkswagen ID.4 electric vehicle at home is with a L2 wallbox charger (sold separately). Your VW ID.4 will include a L1 charging cable but charging times will be longer than a L2 wallbox6.
Electrify Home offers a L2 home charging solution, purchase your charger and get assistance finding an installer via Qmerit at Electrify Home.
The Charger Infrastructure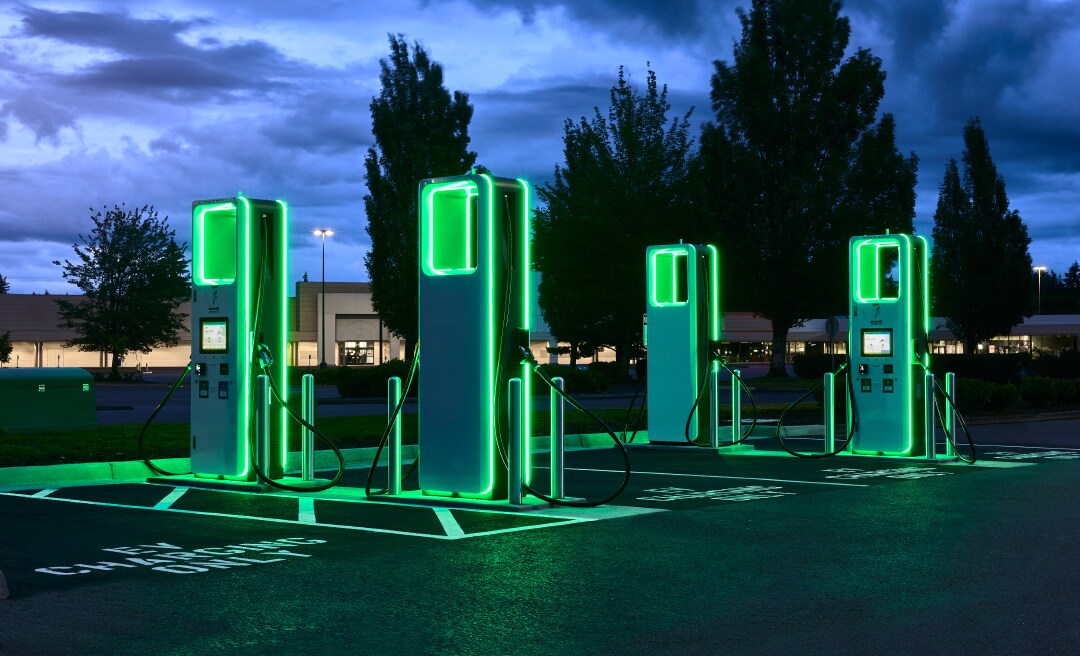 17,000+ chargers nationwide

Public charging is a great option when you're on-the-go, and with an ever-growing network of more than 17,000 chargers nationwide, it's a convenient one too.
DC Fast Charging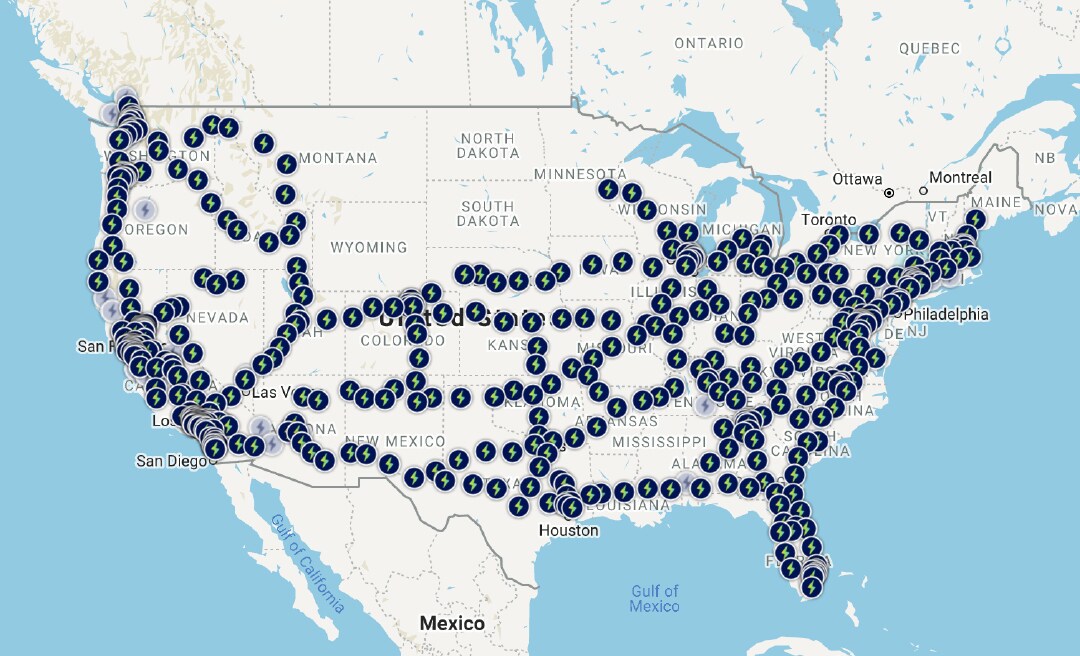 Have charge will travel

The 2021 Volkswagen ID.4 comes with 3 years of unlimited charging at Electrify America DC Fast Chargers at no additional cost.7 Electrify America chargers can be found along most major highways.
The ID.4 is capable of charging:
60 miles in about 10 minutes at a public DC fast charger.
5
5% to 80% charge in about 38 minutes at a public DC fast charger.
5
Technology Smarter

than ever.
IQ.Drive®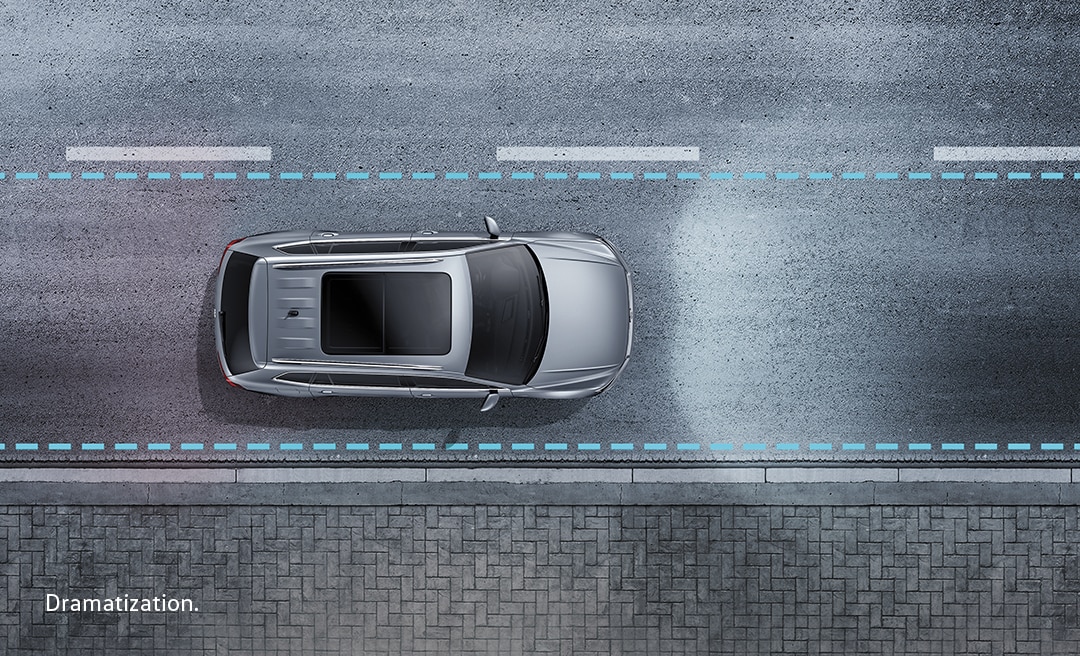 IQ.DRIVE®
Getting where you need to go just got a lot easier. Enter: IQ.DRIVE, Advanced Drivers Assistance Technology featuring hands-on semi-autonomous capability. Includes a set of intelligent features designed to help you navigate the road ahead. [8]
IQ.DRIVE features:
Travel Assist
Lane Assist
Front Assist
Adaptive Cruise Control
Emergency Assist
Blind Spot Monitor (Side Assist)
Rear Traffic Alert
ID.Light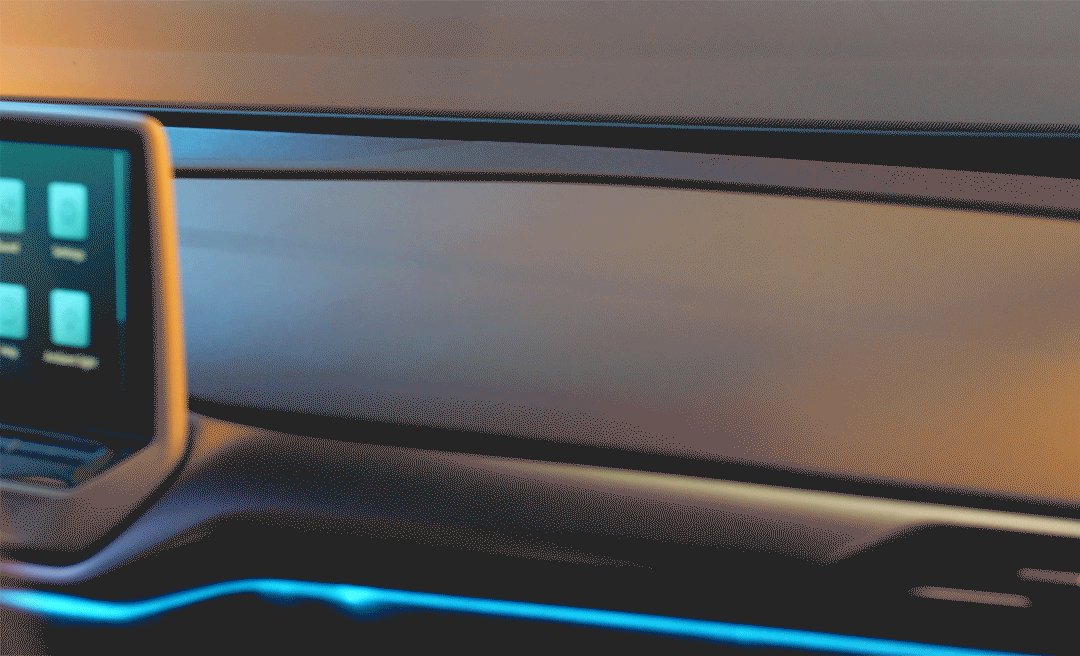 Car talk reimagined

Think of the ID.Light as the way your ID.4 communicates with you. An intuitive light bar that runs across the dashboard, the ID.Light uses glowing visual and acoustic cues to telegraph incoming calls, brake warnings, charge status and more.
Intuitive Start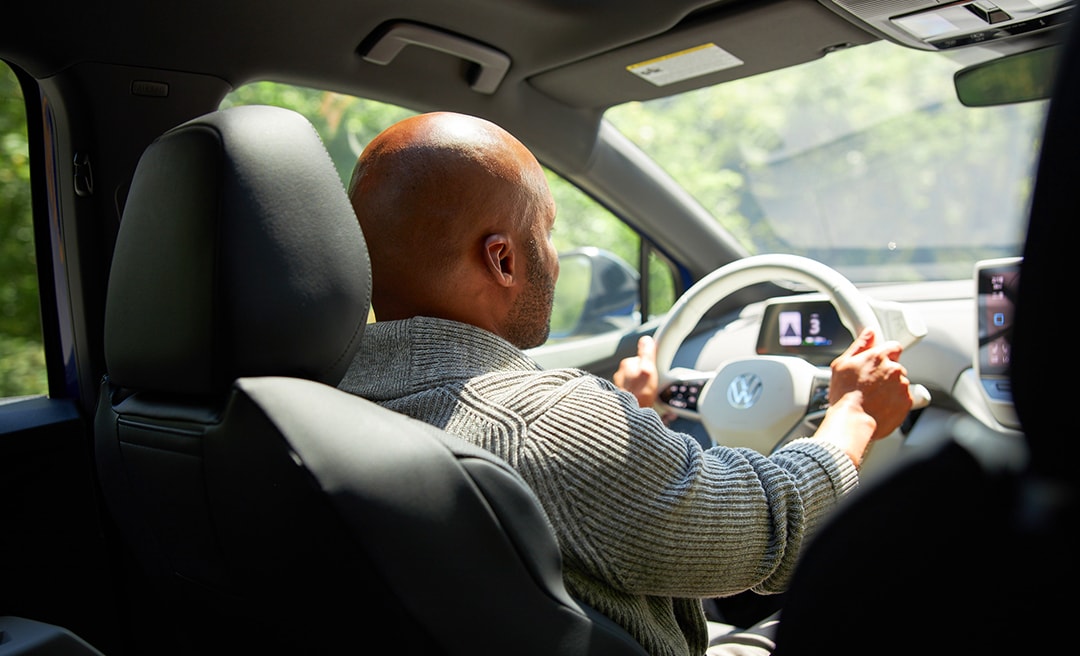 Ready to Drive
The ID.4 senses your presence and intuitively starts when you have your key fob and you sit in the driver's seat, "waking up" automatically. Screens blink on, and the car is ready for the road.
12" Touchscreen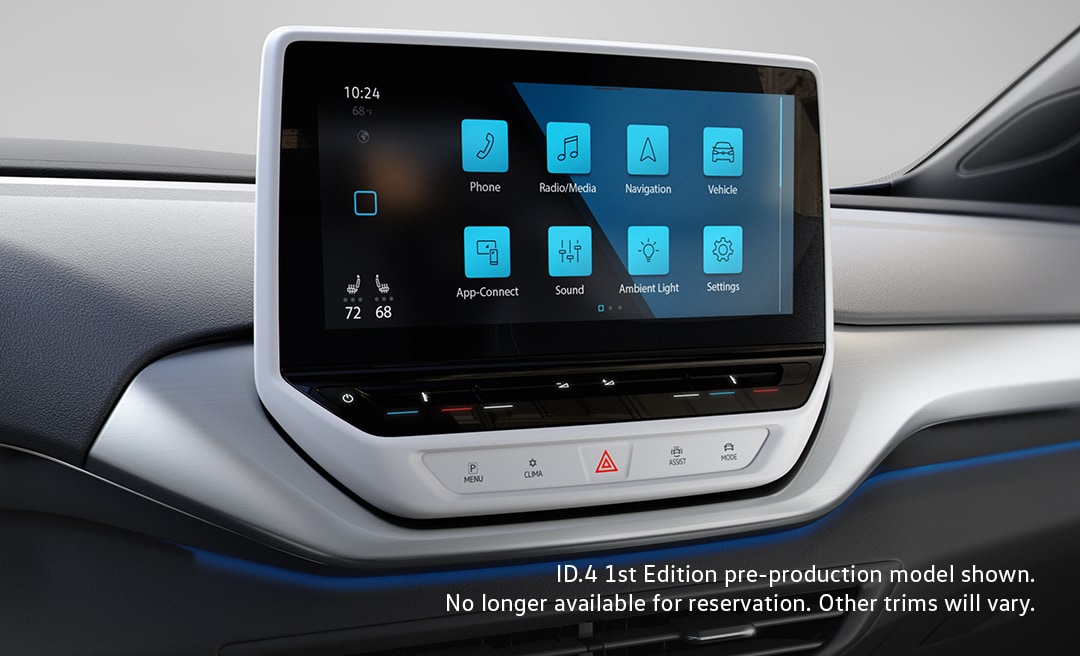 12" Touchscreen Display
Your central hub for your drive, this touchscreen with voice control is equipped with smart features like interactive navigation, climate control and more. So you can get where you're going, and stay comfortable along the way.
Wireless Connectivity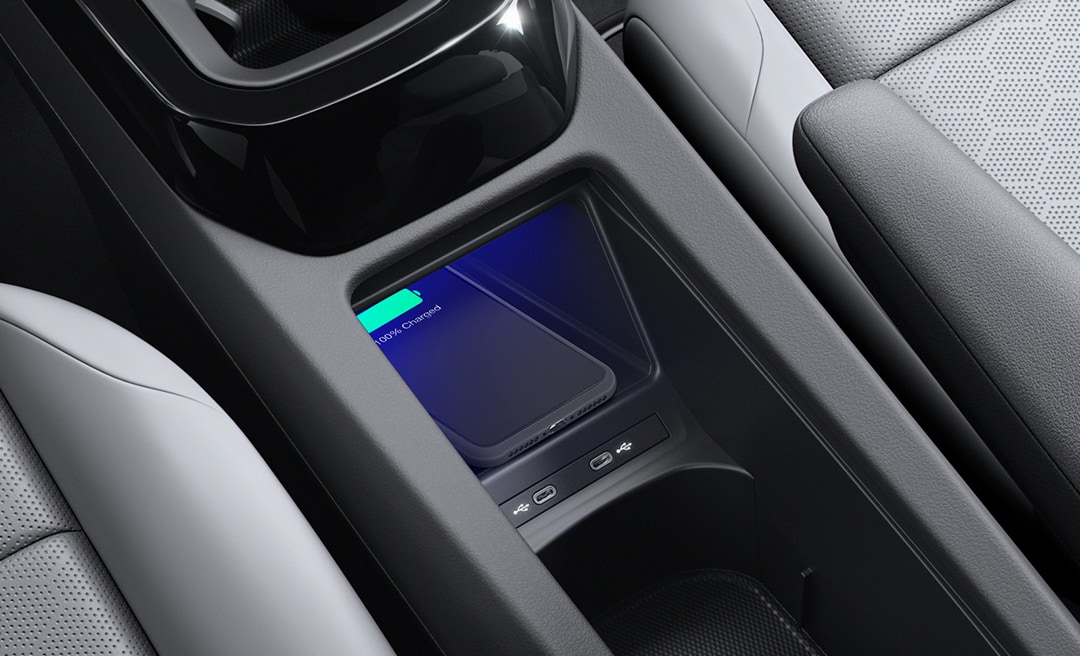 Charge and Connect

Say goodbye to tangled cords with wireless charging and App-Connect with wireless capabilities [9] for compatible phones. Whether you need to charge your phone or connect music to your car, you can do it seamlessly with wireless connectivity.
VW Car-Net®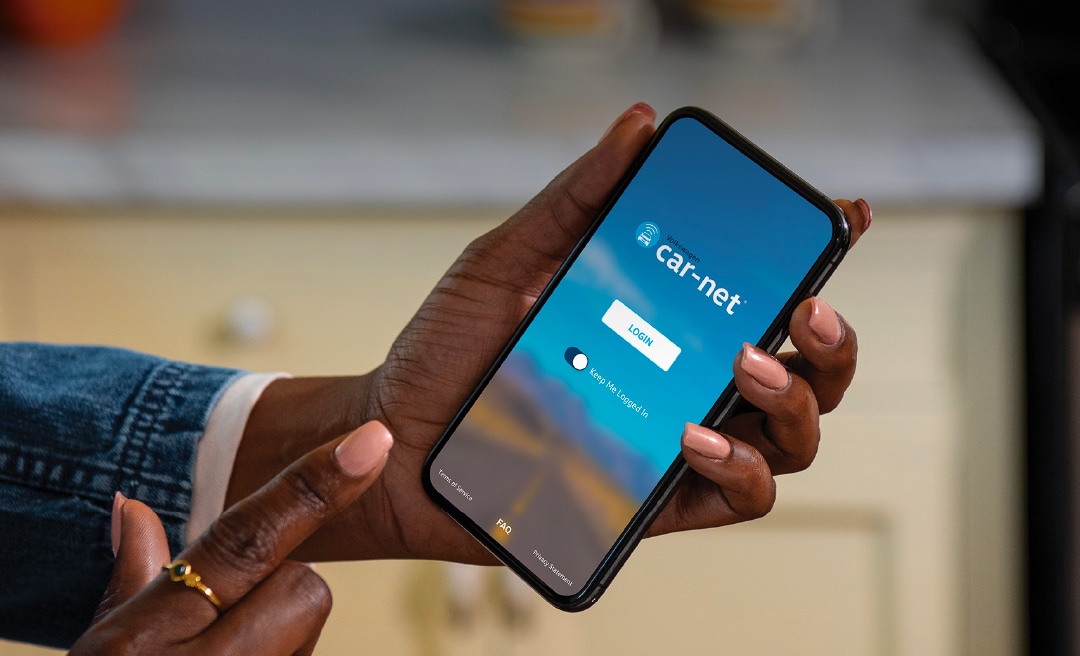 More than an app

Get the most out of your VW with Remote Access [10], Emergency Assistance[11], remote battery charge, Wi-Fi Hotspot[12] and more. And with the ID.4, Car-Net makes going electric even easier when you can check your charge status remotely and find charging stations nearby or en route.
Manufacturer Estimated Range 
250 miles4
The 1st Edition includes:
1st Edition badging & white interior accents
Black painted roof, silver roof rails and accents
20" alloy wheels
Premium LED projector headlights with AFS and illuminated grille
Panoramic fixed glass roof
The Pro includes:
IQ.DRIVE (Advanced Driver Assistance Technologies)
Discover Pro navigation with 10" display
ID.Light
Heated front seats & heated steering wheel
Wireless charging & App-Connect with wireless capabilities for compatible devices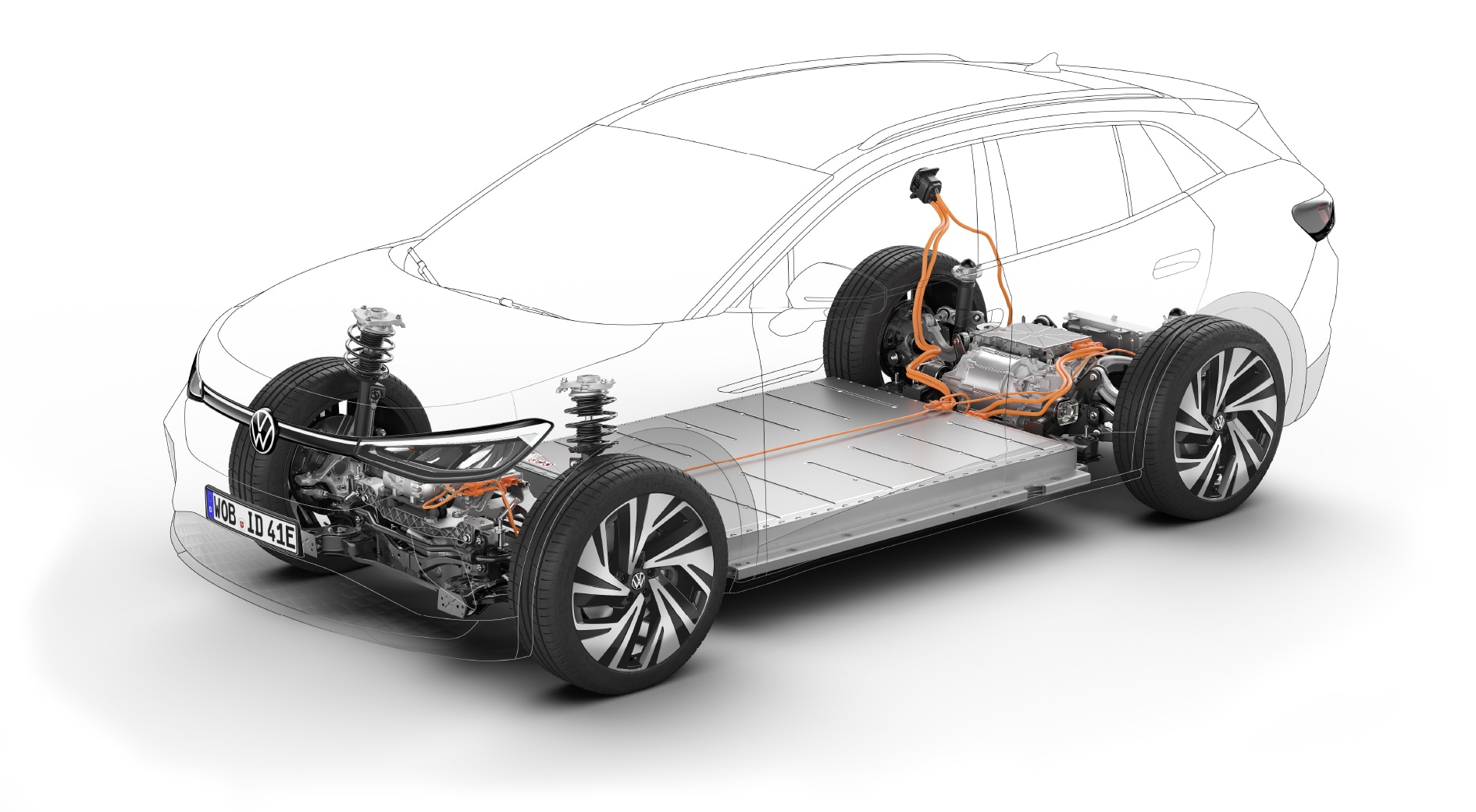 1 Platform, 20-Million
Electric Vehicles.
We developed MEB, our modular electric toolkit, with the intent that the technology be shared. Whether an EV is an SUV or city-ready sedan, it will sit atop the same MEB technology. The Volkswagen global goal: approximately 20 million EVs built on MEB by 2029.
Reserve your 2021 Volkwagen ID.4 today. It has proven to be a popular electric model, with some upgrade features currently unavailable. If you are interested in getting yourself behind the wheel of this gorgeous crossover, we encourage you to act fast. Begin your order online and give the Sunnyvale Volkswagen sales team a call with any questions at 408-604-0990.
1
Starting MSRP of $39,995 for a 2021 Volkswagen ID.4 Pro with single-speed automatic transmission. Prices exclude transportation, taxes, title, other options and dealer charges. Dealer sets actual price.
2The "as low as" amount is net result of reducing MSRP by potential federal tax credit amount of $7500 and is not an indication of purchase price due at time of purchase. It is provided for informational purposes only. The ID.4 has not yet been certified as credit eligible by the IRS. This information does not constitute tax or legal advice. Any available credits apply only on the purchase of a qualifying vehicle and are not available in a lease transaction. All persons considering use of available tax credits should consult a tax advisor to determine eligibility based on their specific tax situation. Tax credits are subject to various limitations not within Volkswagen's control and are subject to change without notice.
3Closed end lease financing available for a new, unused 2021 ID.4 Pro, on approved credit to highly qualified customers by Volkswagen Credit through participating dealers. Monthly lease payment based on MSRP of $39,995 and destination charges less a $7,500 Lease Incentive and suggested dealer contribution resulting in a capitalized cost of $31,182.80. Excludes tax, title, license, options, and dealer fees. Amount due at signing includes first month's payment, customer down payment of $2,501, and acquisition fee of $699. Monthly payments total $13,644. Your payment will vary based on final negotiated price. At lease end, lessee responsible for disposition fee of $395, $0.20/mile over 30,000 miles and excessive wear and use. Offer not valid in Puerto Rico. See your Volkswagen dealer for details or, for general product information, call 1-800-Drive-VW. Offer is subject to change or terminate without notice.
4The ID.4 Pro S and 1st Edition have a preliminary manufacturer estimate of 260 miles range based on approximation of EPA test cycle. EPA estimates not yet available at this time. Actual range will vary and depend on several factors including driving and charging habits, accessory use, temperature and topography, battery age, load, and vehicle condition. Battery capacity decreases with time and use. See owner's manual for details. Different vehicle variants, including AWD variants, will have different ranges.
5ID.4 equipped with fast charging capability maximum rate of 125kW. Based on charging at a 125kW or higher charger. Charging times will vary and depend on a variety of factors, including ambient temperature, charger type, battery condition and initial state of charge, vehicle condition and others. Frequent and consecutive fast charging can permanently decrease battery capacity.
6L2 wallbox charger not included and requires extra installation and wiring costs. Please see Owner's Manual for installation and other charging information.
7Available on MY21 ID.4 vehicles. Non-transferable. Not available for commercial use, such as ridesharing. Requires Electrify America account, app, and acceptance of Terms of Use. After user-initiated charge session stop or vehicle reaches full charge, and 10-min grace period, Idle Fees will apply and user is responsible. In the event of suspected fraud or abuse or other unforeseen events, Volkswagen of America may discontinue or modify the offer in its sole discretion.
8Driver Assistance features are not substitutes for attentive driving. See Owner's Manual for further details and important limitations.
9Always pay careful attention to the road, and do not drive while distracted. Not all features available on all operating systems. Standard text and data usage rates apply. App-Connect features require compatible device, operating system, and mobile apps. See mobile device and app providers for terms and privacy.
10Available on most MY20 and newer vehicles. Always pay careful attention to the road and do not drive while distracted. Certain services require trial or paid subscriptions, which may have their own terms and conditions. VW Car-Net requires vehicle cellular connectivity and availability of vehicle GPS signal, and not all services and features are available on all vehicles. Certain Car-Net services, such as Roadside Call Assist, connect out to 3rd party providers that may require additional payment. Standard text and data rates may apply for app and web features. Certain services may collect location and vehicle information. See Terms of Service, Privacy Statement, and other important information at www.vw.com/carnet.
11Requires paid subscription and may require additional payment for emergency and other third party services rendered.
12The Wi-Fi Hotspot feature is intended for passenger use only. 4G LTE coverage is not available in all areas. See materials provided for terms, privacy, data security details. Requires trial or paid Wi-Fi plan from third party wireless provider.
13
Starting MSRP of $43,995 for a 2021 Volkswagen ID.4 1st Edition with single-speed automatic transmission. Prices exclude transportation, taxes, title, other options and dealer charges. Dealer sets actual price.